GET YOUR BUSINESS ENTITY SET UP
AND ENJOY THE SATISFACTION OF YOUR OWN SUCCESSFUL BUSINESS.
GET YOUR BUSINESS ENTITY SET UP
AND ENJOY THE SATISFACTION OF YOUR OWN SUCCESSFUL BUSINESS.
BE PREPARED FOR
CUSTOMER TRANSACTIONS
BE EMPOWERED &
LEGALLY PROTECTED
BECOME AN "OFFICIAL"
BUSINESS IN RECORD TIME
SETTING UP YOUR BUSINESS ENTITY IS IMPORTANT, BUT NOT EASY.
YOUR BUSINESS NEEDS A LEGAL STRUCTURE.
A proper business entity protects you – financially and legally.
The problem is, there are so many options. And the decision is rather permanent.
Making the wrong choice can result in tax headaches.
Changing business statuses is a paperwork and tech hassle.
This decision impacts your business every single day.
The more you think about it, the more unclear and overwhelming the task becomes.
We believe that starting a new business is exciting, and best experienced with a team of experts around you.
Formalizing businesses is what we do at Executive on the Go.
HERE'S HOW WE SET UP YOUR BUSINESS THE RIGHT WAY, THE FIRST TIME.
MEET & DISCUSS
Meet us for a complimentary consultation. We can guide you to the best option for your situation.
WE HANDLE THE DETAILS
We provide you a list of required items. Once received, we'll handle your entire application process.
1
CELEBRATE!
With official papers in hand, be empowered and ready to receive money from your first customer!
SAVE YOUR BUSINESS THOUSANDS OF DOLLARS!
Discover these common mistakes small businesses make when setting up a business entity. By learning what not to do, you will:
Protect your personal assets and tax liability.
Save precious time as you launch and scale your business.
Channel your young business's resources in the right places.
Create relationships with aligned partners and supporters.
Get the complimentary guide, How to Avoid the Top 5 New Business Mistakes and set up your business the right way, the first time. >>>
YES, PLEASE! I'D LIKE TO AVOID COSTLY
MISTAKES AND SAVE PRECIOUS TIME!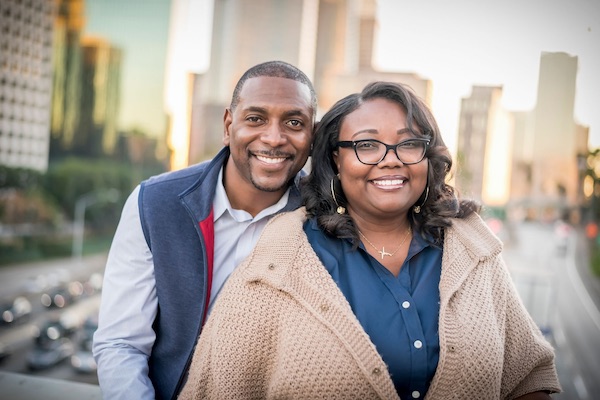 We understand what it's like to be your own boss because we have many business ventures and passion projects.
Since 2002, we have helped over 15,000 entrepreneurs start their business the right way, the first time.
Hello! We are Angele and Brandon Cade, founders of Executive on the Go. We know there is room for everyone who wants to open and run their own successful business.
Our expert team takes great care with each business we set up. We guide entrepreneurs from initial business concept to official papers in hand. So you can be prepared and empowered for business ownership.
BUSINESSES WE'VE SERVED
Since 2002, we've helped over 15,000 businesses, including:
Production & manufacturing co's
ALREADY KNOW WHAT BUSINESS ENTITY IS RIGHT FOR YOU?
Choose your option below to begin the application process now.
Not sure? No problem. We're here to help.
When I formed my business, I didn't want to be a number in a straightforward transaction. My type of organization is different, and Angele understood that. Over the years, I've formed multiple businesses with their help. I would recommend Executive on the Go to anyone!
When I sought the help of Executive on the Go, I needed advice regarding my options. Brandon explained the challenges and benefits of the business entities available to me. The Executive on the Go team is responsive, eager to help, and thorough. I now have peace of mind that my business is under the right structure.
Mekan Muhammedov, Star Group LLC
We have been customers of Executive On the Go for over a decade. Whether we are filing our company's annual documents or bringing our portfolio up to date, Executive on the Go has been there to guide us through all our business needs. Their service is impeccable. We consider them a valuable resource and trusted team member.
Don't Apply for Business Credit Before You Watch This
April 15, 2019 |‌ Startups, Accounting, Pesonal Finance
Things to Consider Before You Start Your Business
April 7, 2019 | ‌Startups, Market Research, Product Research
LLCs and S-Corps and Finance Considerations
April 3, 2019 | LLC, Inc, S-Corps, Taxes, Personal Finance